Maine Granite Countertops
Quality Granite And Cabinetry provides Quality Custom Countertops and Cabinetry to Southern Maine.
From our location in concord New Hampshire We provide Custom Countertops and Kitchen cabinets to the coast of main from Kittery,  York Ogunquit, to Kennebunk, Saco, and South Portland. We also service all of the bordering areas along NH over to Sebago Lake area. Many of our projects have been along the coast of Maine and we have made trips out to the outlying islands.
Quality Countertops at an Affordable Price. 
Check out our vast selection of Onsite Material as well as we are able to source materials at most all the major distributors from Massachusetts. Whether you are looking for Granite, Quartz or soapstone in various finishes from polished to leathered and more we are able to put you together with the perfect stone for your main project.
Call today for A free Estimate 603-522-7625
Check out our specials page for more details as well as call us for any specific material that is of interest to you. We have great deals on many levels of materials and our customer service is second to none. We provide you with a Free Estimate and will come to your location to provide a template. Base on this template of your actual countertops we will solidify the quote and can proceed with creating your new custom Countertops.
Granite is the leading material for Residential kitchen use. It is the most durable material for everyday use in the kitchen. It can stand up to heat the daily abuse of the average home kitchen better than and material and the beauty of natural stone is second to none.
Quartz has a few slight advantages over natural stone due to the process to manufacture the material. Quartz comes in some very uniform colors which can help with certain design styles for a more modern look. Quartz is already sealed due to the process to create the material. any pits or fissure are filled with a polymer from the factory. This is also what colors the material as "quartz countertops" are made from crushed clear quartz stones held together with colored polymers. the stat that is stated many places is that quartz is made up of 93% quartz material and 7% resin or polymer.
A little About Marble Countertops for your Maine home.
Marble due to its material make up is better suited for areas that are more decorative. Bathrooms and accents for fire places and entry ways marble is a great choice. This material has been used for 1000's of years and has truly stood the test of time. It does not stand up well to acids and abrasive tools that may be present in a kitchen but the materials beauty far exceeds many of the materials available today.
Some Trends for your Maine Kitchen
Whites are very popular today for countertops. Granite's do come in whites but they tend to have many other colors mixed in. This is due to how the material is formed. Marbles are formed from pressure so many white marbles are available as pressure does not change color like heat can.  This makes quartz a viable option for your kitchen. Some white quartz countertops are designed to mimic marbles. Although when you look side by side its still apparent that the material is not marble you can have the basic look of marble in your kitchen with the function and comparable wear of quartz countertops.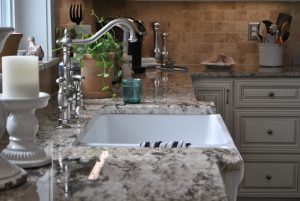 One important thing about quartz and UV rays.
Kitchens that are bright with sun will want to be sure that they select a color and a product that will react well with sunlight. As with any plastic material extended exposure to sunlight can change the color of the material. If you kitchen is bright with natural sunlight you may want to at natural stones as well as exterior applications, natural stone is typically a better choice.