Here you will learn how to care for your custom countertops.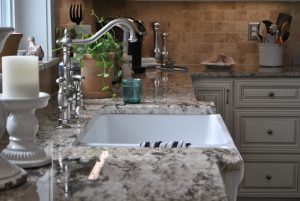 Sealing Natural Stone Countertops
Granite Countertops require annual sealing. This is to seal any pours or fissures in the stone to avoid collection of bacteria, deter staining and harsh chemicals.  A sealing product that is designed for natural stone.  Always test the product in an area that is not as noticeable first to ensure your satisfaction with the final product. To remove any current product from the counter top acetone can be used. If you are at all unsure of this process reach out to a professional for assistance.
Marbles and Other Softer Stones – Special Sealers should be applied to these materials if used in a kitchen environment. these sealers tend to be more durable and longer lasting to preserve the look of the stone.  Recommend seeking the assistance of a professional to ensure the proper materials are used.
Natural Stone Daily Care
Using a non-abrasive cleaning product designed for natural stone is recommended. Avoid harsh chemicals like acids. Clean Up spills quickly to avoid the potential for staining especially with lighter colored stones.
Quartz Countertops Care and Maintenance
A natural benefit of quartz countertops is minimal cleaning required to keep them sanitary and working at the highest potential. Due to the non-porous nature of the quartz countertop material, stains and spills are less easily absorbed into the countetop surface.  Quartz is incredibly resistant to staining and corrosion from chemicals like oils, liquids and most household cleaning products, which makes clean up a fairly easy job.
Quartz countertops will resist staining when exposed to chemicals like wine, vinegar, soda, lemon juice, and tea, or vegetables and fruits, it's important to wipe up spills quickly before they have a chance to soak in. Fresh spills can be wiped up with a simple household cleaners or dishwasher detergent and a soft cloth (window cleaner can work as well).