<![CDATA[
NH Granite Countertops Costs.
[caption id="attachment_1226" align="alignright" width="300"]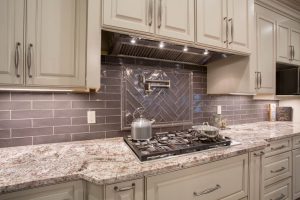 torroncino[/caption] Granite used for countertops is harvested from the earth all over the world. The cost for countertop material varies based on some of the unique qualities and availability of the material. We directly import many of the granite's that we sell so we are able to pass some additional savings onto you. By cutting out the middle men we are able to save you a lot of money on your stone purchase. We have many stones available on our lot. We are able to provide remnant materials at a significant savings for those smaller projects. Granite for countertops comes in 2 primary thicknesses. 3CM or 1 1/4 inch thick is standard for the New Hamsphire, Maine, Vermont and Massachusetts markets. This thickness does not require additional support for use on countertops. The second thickness is 2CM or 3/4 of an inch thick. With the additional labor and materials required for countertops in 2cm with proper installation the final costs will be inline with 3cm materials. This material is typically used for decorative area that would provide support backing for the material. This 2cm material is also used with a backing support for more decorate edging. The edges are laminated together to create a much thicker appearance. These steps add labor costs. These cost considerations with 2cm is why 3cm has become the countertop of choice to reduce labor costs and increase the strength of the material.
How is price for granite countertops calculated.
[caption id="attachment_1231" align="alignleft" width="300"]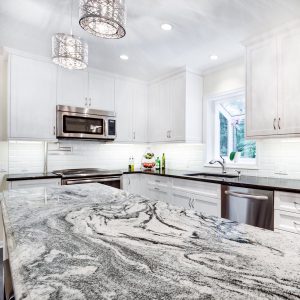 viscon white[/caption]
The primary factors affecting costs for granite for countertops are supply and demand.
With more supply and consistent supply chain of slab material granite from brazil & china tends to be the least expensive. The new tariffs are affecting pricing of material from china as this is already seen with quartz countertop materials coming from China. Ubatuba is a good example of a material that is at a lower cost. This is due to its origin being Brazil, the consistency of the material and that it is readily available.
This material from Brazil will typically run between $30/square foot to $50 per square foot installed.
Some material that is more difficult to harvest and transport as well as the demand for the material would then drive up the costs of the material.
More of the white granite's tend to have a higher cost for these reasons. The trends of the last 4-5 years has increased the demand for white countertops and sourcing this material has proven to be more costly.
Edging of countertops will effect costs.
We provide a selection of edging included with the fabrication at no additional cost. Aside from those edges that are more complicated and require additional consumable tools and labor to create will be priced on a per linear foot basis.
Fabrication will effect Costs.
If your project requires an abnormal amount of cuts holes and custom work this can add additional fabrication costs. These details are all ironed out with the template process.
Installation will effect Costs.
If the installation is standard then the standard installation rate is applicable. If additional steps are required for installation such as complexity of stair cases or access to the premises. This is assessed at template as well to see if any additional steps or services are required to complete the installation.
Check out our reviews to understand what makes us a cut above the rest.
Call today for a Free Estimate [spark_tracknumber]
]]>