<![CDATA[
The battle continues Granite Vs Quartz countertops.
Nationally the demand for quartz countertops is rising. BUT.. realize that its not the same for everyone. lets go over this step by step and see if we can help you make the right selection for yourself. Granite Vs Quartz has been an ongoing battle since quartz began to hit the market by "silestone" approximately 12 years ago. over this time the popularity of the material and the term quartz countertops began to describe the material and its benefits.
Granite countertops are natural stone material harvested from the earth and made available in slab form for kitchen bathrooms and other surfaces. This is a great surface for residential applications as it has that unique quality that this is your own piece of earth and no other kitchen in the world has exactly the same stone. [foogallery id="323"] Granite is a general term used to describe natural Stone. The makeup of granite is many different minerals combined in a solid piece of rock. This rock is then cut into specific sized sheets of material used for custom countertops. Granite is used in many applications for its durability and its ability to stand up to natural elements. Granite for countertops is polished to almost glass like finish "normally" to be used as countertops for kitchens and bathrooms. 2 main thicknesses are used 2CM (3/4 of an inch) and 3CM (1 1/4 thick) for countertops. 2CM can be prone to breaking so techniques are developed to support the countertops such as adding plywood backers and other kinds of support. 3Cm became popular as the thickness of the edge did not require lamination and the materials durability increased significantly.
Aesthetics – All other material attempts to mimic the look.
NH Granite Countertops Cost – Over other premium countertop Materials granite is the most cost effective for residential use.
Granite Counter tops for Resale Value – Typically the investment pays back in full or more.
Larger audience finds granite countertops to be a value to the home.
NAtural Sunlight is not an issue with granite so let the sun shine in!
These countertop come in many brands/manufacturers and colors. They are typically more uniform in color and have some great qualities for kitchen and bathroom applications. "Quartz" was the first material used as it is not available in slab form and is one of the hardest material in existence. This material is clear and is held together with a man made plastic polymer or epoxy. This process creates a surface that is void of imperfections that you would find in natural stones as the manufacturing process fills those. The main weak point for quartz is the polymer. the substance used to connect the quartz pieces together. UV rays heat and chemicals can affect these areas of the material.
Quartz Brands
[foogallery id="1964"] We find that commercial applications for quartz is in high demand. Cleaning and low maintenance are a high on the priority list for commercial applications. Also with branding color uniformity is a high priority. So quartz makes sense for many commercial applications.
Its unique qualities and beauty make it one of the most appealing and the highest potential return when selling your home. It stands up to the daily demands of your kitchen and maintenance is very low. Basically applying a sealer to the surface 1-5 years depending on the stone and the sealer used is all that is required. Granite Counter tops starting costs for common materials is between $30 and $50 per square foot and for more precious materials you can spend up to $200/sf.
Quartz is a very nice material to work with to create your custom countertops and we have many lines of quartz countertop materials available on site as well as 6+ brands that we can order for you. Check out the specials page for more details. The more interesting looking the quartz material the more the material costs. expect to pay between $30-50/ square foot for entry level material and up to $75-150 per square foot for the more interesting quartz countertops.
Lower maintenance – durable surface.
Extremely durable
More uniform in color and ability to duplicate color or match colors
Here are some interesting stats in the Granite Vs Quartz Battle!
This data is taken from
google trends
which provides search volume for a particular term over time. currently they provide data as far back as 2004. So we have taken some key terms and can compare the results. Keep in mind this is search data. Does not directly reflect purchases or purchase behavior. This shows intent, interest and research. We will compare a few key terms and brands and then localize the result at the end.
This is over the past 15 years since 2004 until today
[caption id="attachment_1975" align="aligncenter" width="1120"]

silestone countertops US market interest[/caption]
---
[caption id="attachment_1976" align="aligncenter" width="1120"]

cambria countertops US market interest[/caption]
---

quartz countertops US market interest
---
[caption id="attachment_1977" align="aligncenter" width="1120"]

granite countertops US market interest[/caption]
---

granite vs quartz countertops US market interest
Now Lets Localize this to our area Boston, New Hampshire, southern Maine for  Granite Vs Quartz:
76% of the searches were for granite countertops over quartz countertops in the last 12 months.
[caption id="attachment_1978" align="aligncenter" width="486"]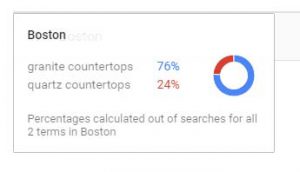 boston metro product interest by search  Granite Vs Quartz[/caption]
 Granite verse Quartz In Summary:
Granite Countertops
tend to be more popular for residential applications Especially in New England.
Quartz Countertops
have some aesthetic and maintenance advantages for commercial applications. Granite Countertops Tends to be 10-20% less expensive then quartz countertops. As far as resale value granite has a slight advantage as more people prefer granite Countertops in the home.
It really comes down to personal preference thats why we offer both granite and quartz countertops and let the customer then measure what benefits them and their style.
We have a large inventory of onsite granite countertop material that you can choose from as well as access to local distributors where we can acquire virtually any material that suits your needs. Check out the specials page for more details Due to the nature of working with slab materials we have a large selection of remnants in the yard. These are great for those smaller projects and we offer cash n carry remnants, as well as fabrication of the material to your specifications. Check out the specials page for more details. Here is a video of a heat test.
Couple obvious reactions to this..
You typically would not have a torch in your kitchen.
The person does spend more time heating the quartz as a touch would do little to granite.
The plastic is what burns and not the "quartz" material
---
Professional Fabrication – Quality Granite & Cabinetry
We have a team of professional stone fabricators that handle, cut, size and polish your countertops from your selected materials. The many years of experience our staff has to form each counter top to your specific Kitchen, bathroom or other application. Our templator will come to your location or job site and gather your specific measurements, any custom concerns with overhangs and detailed sections and create a template for your counter tops that will be brought to the fabrication team to implement.
Professional Stone Design Consultation
Call the showroom
[spark_tracknumber]
or visit us at [spark_address] and our team will answer your questions and provide some direction to help you move your project forward. Visit our showroom to see our vast in-stock inventory or jump right in a go to the slab yard to select material and we will have the material delivered to our fabrication facility to to create your masterpiece.
We have such great
reviews
from our customers because we ensure that you are completely satisfied and that we provide you with good communication through the process. Our goal is not only to earn your business today but to earn your business and the business of your friends and family. If you are looking for
granite, marble or quartz Countertops in NH
 Maine, Mass, or Vermont. Be sure to contact us for a
Free Estimate
]]>